10 Hot Tracks
make One
Smoking Album.

Watch for it soon!

MUSIC
DOWNLOADS:
Originally
written by
Tommy James
Mannausa.
Final version
written by
Tommy James Mannausa,
Jenda and Rick Derringer.
Performed
by the
Rick Derringer Band:

1.
Hit Me
2:00 .mp3

...
2.
Time Keepers
2:00 .mp3

...

3.
Top Dancin
2:00 .mp3

...

4.
"58"
2:00 .mp3

...
5.
Safe
2:00 .mp3

...
6.
Down The Drain
2:00 .mp3
Lyrics
...
7.
Dreams
2:00 .mp3
...
8.
Bandana
2:00 .mp3
...
9.
Cigarette
2:00 .mp3
...
10.
Love My Baby
2:00 .mp3

Welcome.

The CD is COMPLETE! See the track samples adjacent left. Record Deal
comes next...stay tuned. :))

All lyrics were originally written by me
on all of our songs. I've now written
over 200 songs.

We recorded the Rick Derringer /
Tommy James Mannausa CD
Project in Clearwater, Florida at
George Harris' Panda Productions.
Rick has recorded several CDs at
this venue. The studio is old school and
Rick and George work so well together.
George is an accomplished guitar
player himself and is a gem in the
studio.

I have always enjoyed writing and
drawing. The beauty to me of writing
is with pen on paper. The movement
of hands, fingers and eyes in non-
cursive style is my preference. Since
a boy, I enjoyed the magic of creating
short stories.

As a communication and writing
specialist, my skills have evolved to
be quick witted and detailed to allow
the reader or listener to grab on to
lyrics & experience the points intended.
Many of which carrying dual meanings
allowing self exploration of specific
chosen words.

The joy of drafting a song truly
inspires me. I don't sit down to start
writing a song, without first having a
vibe of verses or a chorus line that
hits me. The concept of a song, starts quick and flows through my sole.

Seemingly, without any effort, I then
write free, with a rhythm and rhymes
to move forward, creating the song.
Some songs come so quickly, more
than one verse runs through my brain
at a time. Most songs take a lot of
time to create, revisit, rewrite,
recounting syllables, while a few,
like Time Keepers, come so
quickly that I can't write quick enough,
while my brain does it's job to keep
spilling words. What a joy this
process is to me.

Some songs have come to me in
30 minutes, with complicated chorus
lines, as in the lyrics to Timekeepers.
Others were a long process of editing,
revisiting words or lines, but in the
end, a joy to create. These are all
permanent representations of a small
portion of the vast realm of creativity."
TJM
........................
*(Fun phone call tonight...Bandana!

Artie Lange Show

November 20, 2013, from my friend Bunner Smith at 12:17am..... "Hey Tommy, you up? Go to 102.5 FM and your music partner Rick Derringer is on the Artie Lang Show, in Artie's studio playing, talking and such....
Bam! I'm there... Rick was in a national broadcast, announcing his next tour is titled "Bandana Fest", energized from the song I wrote, "Bandana".....
Artie Lang, asked Rick many questions, including other musical acts to perform and such on the tour.
Rick, eloquently answered each question with other recognized artists that will be involved with his next tour.
Rick, Jenda and I spoke of the tour, the title and such two weeks ago.
We'll have some work to accomplish in preparation of the many shows Rick Derringer and his band will perform, with his talented friends of recognized bands/acts, on this upcoming series of concerts. Bandana, (the song) can be previewed to the left.
Thank you very much.
Thomas James Mannausa

This is Rick Derringer live performance tonight on Direct TV live and on national radio broadcast on radio of, "Bandana". I wrote this song after a stint at Thunder By The Bay 2 years ago. Walked back to tower residence, and write for 3 hours this song. Rick, Jenda and I were 2/3rds complete with our CD. Rick picked it up, headed a couple of days later into Panda Productions Studios, Clearwater, Florida and Bam! Here it is live. Rick invited me to a first performance on his tour shortly thereafter. Look how handsome he appears and with how effortless his guitar skills operate rhythm and lead. Bandana, is the title of his next tour.
God bless Rick's talents and our friendship. Tommy James Mannausa.
Bandana
Emmmm Bandana. On Sunday morning
in late October, 2011 ("Rocktober") I had
the word, "bandana" stuck in my head
earlier that day... It wouldn't let go. Sort of
like that first song that you wake up to,
and it's stuck in your head and it won't
let go. I went for a swim... It was still
there, "bandana". I walk up town
Sarasota. It was still there, "bandana". I
got back to my crib, and started writing,
and it was done in 30 minutes. I sat at
the Organ. Tweak the piano. Rewrote. It
was in the game. Then a few weeks
later Jenda called. She said, "let's meet,
Rick want to take some of your new
songs to "create". I said "cool..."
So I headed over to the Derringer palace
on Sarasota Bay and we went through
five songs I wrote for three hours. Rick
had seven shows to do, here and there
(after many weeks, touring with Ringo
Starr, etal...). Anyway, Ricky and Jenda
cleaned it up and Ricky D came up with
this recording. He's in such a happy
place. The week he was in the studio as
Davy Jones, former lead singer of The
Monkeys, died at 66 years of age. His
band had a #1 hit song, just after Rick's
#1 HIT--Hang On Sloopy.
The beat goes on.
...........................

"58"

Rick did a wonderful vocal on 58,
full of spirit in this love song,
coupled with diminished chords on
the electric piano, also played by
Rick.

His guitar riffs are signature
'Derringer' on 58. Fall in love all over again.
Watch this space...getting HOTTER!

"Mark: as my friend, will you please take a
look at my web site?

It seems like I am spending more time on my music and other
endeavors, including an upcoming acting role as a reoccurring
character in the hit series "Crash". Dennis Hopper is the lead
actor, along with Eric Roberts. I'd like you to take a look at the
T. Mannausa & Company web site and upgrade just the
"Tommy James Mannausa" creative area.

In addition to the "Hit Me", "Time Keepers" and "Top Dancin",
would you please add the songs "58", "Double Shot", "You're
My Girl". Two of these songs have been auditioned for this very
same show "Crash", which appears on the Starz Network. You
can go on line and look up a lot of the basic information and
add to this.
I went today to the studio in which the casting director met me
through my music partner, Rick Derringer.

Mr. Derringer has had a couple of entrees as a character in a
couple of scenes which will air shortly. This is the second
season of what, as I understand, are 13 shows per season.
My character is an executive working for the character played
by Eric Roberts.

Initially, I was set to be a one show part, but after Mr. Bob Baxter
met me at Rick and Jenda Derringer's home in Rio Rancho,
New Mexico, he upgraded my character role as a "reoccurring"
character. I have committed to this time and I am to report to
the studio for filming on September 12th.
My part wears fine suits and perhaps will be expanded,
according to the casting director, who is real tight with the
director of this series. It will be interesting to see how this
transpired. We auditioned "Hit Me" and "Time Keepers" at Mr.
Derringer's home and Mr. Baxter really liked "Hit Me" and
perhaps this song will be aired during the series as well.

Rick and Jenda have been extremely generous and I would like
for them to sparkle on my web site as just that — very generous,
honest and a pleasure to spend time with. I would like for you
to come up with some things, even if you have some questions
to further ask me, but I would like to have you take the time to
come up with a re-draft of this element.
The business side of the T. Mannausa & Company is fine. I
want you to go to the creative side. Perhaps some additional
photography of me would help. I am more than happy to also
provide some poetry of the lyrics of these songs if you think that
will help as well ." TJM
Click on the linked photo below to read about the day I guest
lectured Auburn University's Music Appreciation Classes.

.............................................
Mark:

"In addition, I want to say what a great couple Rick and Jenda
are, and what fun and how hugely satisfying our music is.
Rick is clearly one of the very best musicians on the planet.
His natural rhythm and skills as a singer, still carrying a three
octave voice and guitar abilities are magical. Rick is patient,
non boastful and a hammer on lead, rhythm and bass guitars.
He truly loves working with the songs I've written and the three
of us really look forward to the CD being completed for
generations to enjoy." TJM
.............................................
We fight to capture the moment and then try
desperately to hold on to what's left of it all:
May 21, 2010 Music:

Ricks' guitar intro to "Safe" ( No. 5 adjacent left) is so 'Derringer'
it amazes me and  my posse, in addition to his pretty vocals. So
subtle, sweet and  patient to hit the mic, that the music's ear
should only go to school, to listen, to the guitar riffs and vocals,
like watching the  simplicity of Roger Federer hit a volley at the
net. Again, it sounds  so simple, but, as a song writer, it's not.
It's a volcano waiting to  explode! My partners a monster in the
studio!!!

Wait until you hear, our next song about today's times in this
wacky  world we live... Rick, asked me to dig deep and come up
with something  other than a love song, or anything other than
woman/chicks... I said,  "I can already feel the pain!

My life long friend Drew B. Chapple was with me that night, after
a train ride from downtown Chicago, to our old stomping
grounds of  Kalamazoo, Michigan. Drew picked me up at
11:15am, after a long night at the Down Under Wonder Bar off
Rush Street, in which I heard two killer  bands, and maybe one
of the best keyboard players on earth. I remember that one.

Anyway, after alot of old school BS, we ended up at 1080
Vista  Drive, my crib. Drew B wanted to play. I got an email
from, the man,  Rick Derringer, "... give me lyrics not dealing
with women or bars - push into the life forces now burning the
country. Tommy, grab the FLOW and hang on. Powerful forces
transforming our beloved Land of the Free from all sides.
Burn US ALL, Tommy. It's time to hear the Cries of the
PHOENIX. Make us all feel her flame and tremble at her
Siren's Call. "

Si, Patrone, so rather than go into my files of 82 and a half
songs, I said, screw it! It's time to feel the heat. Not for long,
however, Drew felt the crackle and heat waves coming off my
pen. About an hour later, working only about 3 feet from him
the whole time, I hear him finally say, " What the Frack are you
working on?" LOL

I explained, amd he exploded in harmony. A monster sized RIF
of the 'economy', "Down The Drain"was born that night!
Ricksays, "OooYea, we can definitely work with
this new one!"

OK, I know my man Rick. He'd already plugged in 1 of 21
guitars,and gone to work. His moment of discovery plays out
inside his heart and mind now. He is alone and working.
Like a Magi Eternal, his alchemy is hot and broils the air
around him. I'll hear it soon. I can't wait.

You are all invited.

Love, Tommy James... it's all about the economy, oh yea, the
next song: "It's Down The Drain".
"58"

Rick did a wonderful vocal on 58,
full of spirit in this love song,
coupled with diminished chords on
the electric piano, also played by
Rick.

His guitar riffs are signature
'Derringer' on 58.

I wrote these 58 lyics in two stages a number of years apart. The 1st was in
Harbor Springs, Michigan the summer
of 2004 and again this past summer in
August. I always liked the chorus line...

Rick, Jenda and I on a happy sunny
morning at their home in Rio Rancho,
New Mexico. We played with the lyrics
to a set of chords Rick had been
carrying in his head for over a decade.
He created this sensation on the piano.
Go figure, Rick also being blessed with
beautiful piano skills, played out for
Jenda and I these pretty inspiring
chords, then mashed in the lyrics , and
'58' was born. The recording really
matches up in tempo and vocals the
way it was created that early September

morning.
We were all so happy that day!

God Bless my talented friends:
Rick & Jenda Derringer!

TMJ 1/25/2010
JULY 2010 Update
Showtime at Casino Windsor

Edgar Winter, Rick Derringer and Tommy James Mannausa

Rick Derringer, Tommy James Mannausa and Gary Wright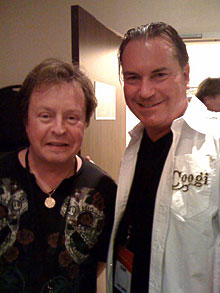 Rick Derringer and Tommy James Mannausa

TJM and Valerie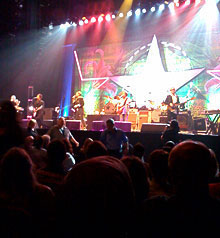 Showtime at Casino Windsor

On Wednesday July 21, 2010 Rick Derringer called me and said,

"Tommy, please come to the Windsor Caesars Resort and
Casino to hear Ringo Starr and his All Starr Band' 11 US tour.
Your Back Stage passes will be at Will Call".
I responded, "Great Ricky, see you in Windsor..." Valerie and I
headed south on I-75 from Bay Harbor, Michigan to Windsor,
Ontario. We arrive at Caesars Resort, a 1,000,000+ square foot
facility set along the Detroit River, checked into a beautiful suite
and toured the casino floors. We ended up in the gift shop and
we picked out a beautiful crystal star crafted by Bacaret. It was
placed in a red box, as a gift for Rick. "a star for a star..." After
cleaning up we headed to will call at 7:45pm.

The Resorts' entertainment manager, Iris, brought out our
Back Stage passes and lead us down an escalator to the main
floor of the 5,000 seat theater. We walked in the heavily guarded
entrance and from quite a distance, was the stage. Dim lights
reflecting on musical equipment ready for seven pros to enjoy
another night playing together, as one of 25 shows.We were
lead by a new gent dressed in a tie and sport coat, talking
through his microphone and listening to a small secret agent
type earpiece, "I've got Tommy and we're heading up...".
He relayed to someone near where my partner Rick was, above
and behind the 100' wide stage. We took an elevator and in it
was a happy fun spirited fellow, who boldly asked me, "who are
you?". I stuck my hand out and responded, "Tommy James
Mannausa". He (while gripping in brother' fashion) said, "so
your the dude who wrote "58". What a great song! I'm Gregg
Bissonette. We laughed, as the elevator opened. Down a
brightly lit hall was Rick leaning on the wall.

Gregg say, hey Rick, look who I dragged in..." we walked up and
were greeting by Rick with ear to ear smiles, a brothers hug,
and smooch from Valerie. Rick then lead us into a large room
filled with about 25 adults nicely dressed. Rick and I chatted
and off to the left was Edgar Winter, who looked at me, then
Rick, and with a funny grin says to Rick, "So this is the
songwriter partner of yours I've been hearing so much about...
Tommy?..."
I shake hands with Edgar and we both had nice vibes that lead
the three of us to a 15 minute discussion. The drummer for
Mitch Rider waltzed up to listen. Rick gave such glowing
comments about our friendship and rock n roll partnership.
Edgar said, "I'd like to see some songs of yours. Those songs
you and Rick have are fantastic. How did you come up with
opening the song "58" with the chorus line? Don't you
know you start with verses first. I said, "Rick started saying
that at first, but I woundn't cave in. It feels and sounds
right this way and makes in unique." Edgar responded, it does,
it's amazing". Rick was grinning big time. I was honored Edgar
listened and remembered that fact (of course, why wouldn't he,
he's a genius). Had another nice introduction from Rick with
Gary Wright (Dreamweaver). He to listened to our CD and was
very nice. Gregg came over and the four of us chatted up a
storm. Valerie was introduced to Edgar and Gary and Gregg as
she slipped back giving me space and taking photos. Ringo is
in a private room next door, with seven + security pros watching
closely. The two minute warning was announced, as we all
headed out the door. Bandmates to the right, us to the left. We
were escorted along the stage, down a few small steps to our
isle seats in the 8th row. Every seat was full and the crowd of
5,000 was a buzz waiting for the show. The show was
outstanding. Rick performed so super duper well. Aside from
Ringo, he was the star. Rick played a five minute guitar solo
toward the end of the 2 hour show that was magical!
The other band mates included Wally Palmer (Romantics) and
Richard Page (Mister Mister). They were all so in a groove... I was
so proud of Rick. Valerie was amazed. We left the show on a
natural high, enjoying life and fulfilling a piece of my passion.
Thank You Rick for the show, the fun, special conversations and
again seeing you 'do your thing on stage'!
TJM